Dom Pérignon – the name alone makes most of us break out in a delightful smile. When we think of this 17th-century monk from Hautvillers – so often pointed out as the father of Champagne – we either regard him with historical reverence, or associate his name with the proudest of all wine labels and everything else that follows in its glamorous, sparkling wake. Just imagine all the classic movie scenes that have been sweetened by a bottle of Dom Pérignon. Bond movies usually spring to mind. Countless times I've sat and sighed over agents with a license to kill: villains and exquisite women in seductively luxurious surroundings, all revelling in icy Dom Pérignon. Most champagne enthusiasts have their favourite scene. Mine is when Scaramanga, the man with the golden gun, shoots the cork off a bottle carried on a tray by his dwarfish servant Nic-Nack, along a now-famous Thai beach. The most comical scene must be when Sean Connery is served a 1957 Dom Pérignon, a vintage that never existed. Brilliant research!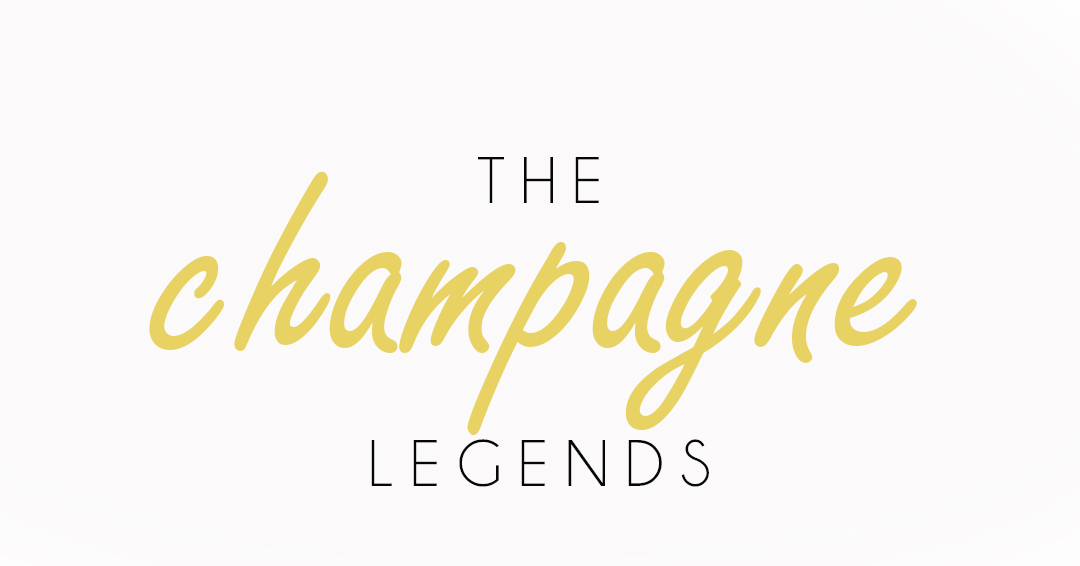 Back in 1936, Moët & Chandon's marketing director Robert-Jean de Vogüé could not possibly have imagined what he had done when he dreamed up the idea of the world's first prestige champagne – a champagne with a sky-high price that was supposed to be even better than the vintage wine, along with a spectacular look that won respect and prompted extravagant enjoyment. Once he got the idea, Vogüé of course couldn't wait to sell Dom Pérignon. The problem was, if the champagne was supposed to be as exceptional as he claimed, it should be at least 15 years old. The only solution was to bring out Moët's foremost 1921 vintage and decant the wine into the new bottles. This "transversage process" was not especially kind to the wine, and not until the 1943 vintage, or possibly the 1937, was the wine actually decanted straight into the curvy bottle. This means that all tasting of the first vintages of Dom Pérignon are more of a curiosity than of pure pleasure. Rather unsentimentally, I look more to the quality of the wine than anything else, so it is natural for me to choose instead this era's usual vintages.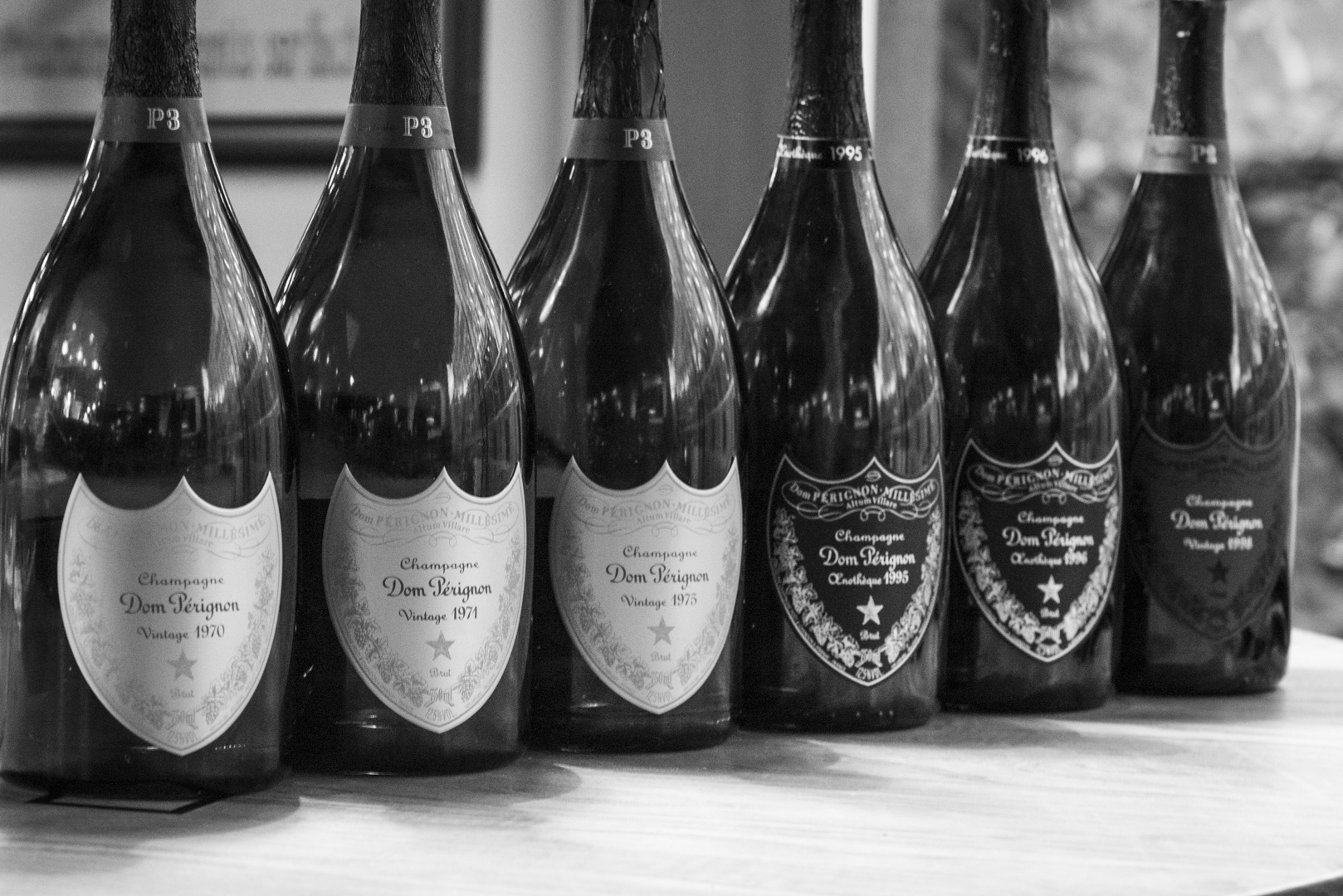 But what about the quality seen from a historic perspective? If you disregard the period of transversage, through the years the wine has been strikingly consistent both in style and quality. The 60s should probably be regarded as the golden age, with a slight overproduction slump in the 70s and 80s. With hardening competition from the other prestige brands, and with the genial Richard Geoffroy at the helm during the 90s, Dom Pérignon is back in brilliant form. The wines from the great vintages, such as 1990 and 1996, have a concentration that is not far behind the 64s and 61s. The style itself is ultra-sophisticated, with an amazingly silky softness combined with toasted fireworks, backed up by an exotic fruitiness in a medium body. When Dom Pérignon is at its best I find notes of forest morelles, cream, peach and an overabundance of roasted coffee beans and nuttiness. Dom Pérignon Rosé is an even more exquisite and rare product that has been molded in a similar form, though its full-bodied shape leans more to strawberry or orange, where the whiter somewhat lighter variety becomes exotic and toasted. Dom Pérignon Oenothèque is the latest child in this distinguished family. At Richard Geoffroy's initiative they now release a restricted number of old, well-preserved bottles from Moët's own cellar in different stages of maturity. The wine can be newly disgorged, but it isn't a fixed thing. What is guaranteed, however, is that the wines are in the best possible condition, and that they most likely will act a little more youthfully than the bottles that have been out on the market for a while. This treasure is now decorated with a luxurious black label in unmistakable style.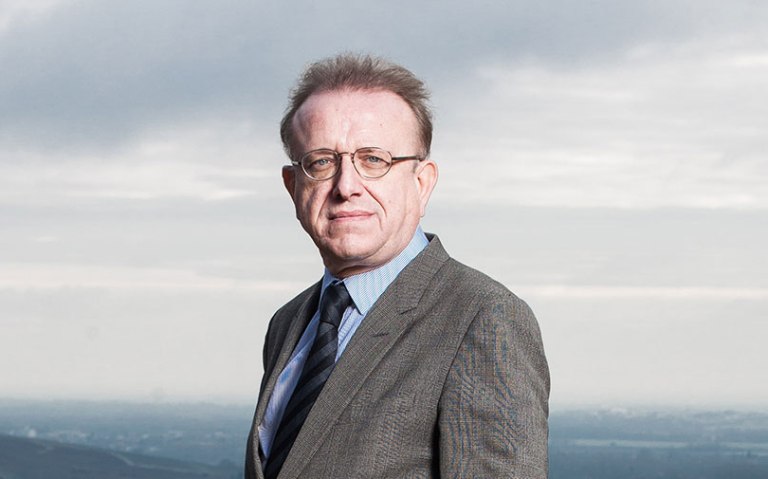 And speaking of style … In an age when PR people constantly want to minimalize labels and change both bottle design and packaging, Dom Pérignon stands there like a Sophia Loren of the champagne world, unchanged and as timelessly sexy. The balance conveyed in the subtly curvaceous shape of the bottle, paired with an olive-green label in the shape of a coat of arms adorned with cursive writing, is still as magical as ever. Since 1970 the wine itself is made exclusively in steel tanks and the grapes are mainly Pinot Noir from Aÿ, Bouzy, Verzenay and Hautvillers, as well as Chardonnay in approximately equal amounts from Cramant and Mesnil.
It is not without pride that I make the claim that recently I most likely became the first person in the world to have tasted every vintage of the world's most famous wine. I filled in the last blanks in August 2006 during an extremely comprehensive DP-tasting at the eminent Søllerød Kro north of Copenhagen, Denmark. A private Danish enthusiast had been collecting wines for 12 years. The whole engagement was extremely well-run and those of us in the pan-Scandinavian tasting group enjoyed two wonderful days of enormous amounts of first-class food and Dom Pérignon in such large quantities that the film "La Grande Bouffe" came to mind. In order to survive the numerous orgiastic gastronomic excesses, I jogged two laps around one of Zealand's largest lakes between indulgences.
The only unfortunate thing was the condition of the older wines. Never before have I been so convinced of how important are the storing conditions of older wines. In Denmark, where the open market has had free play for a long time, old rare wines have frequently changed hands and wine-dealers often store their treasures on the shelf at room temperature for years on end. Down on the continent, wines have usually been allowed to lie still in the same cellar year after year before being drunk, and are therefore in much better condition. The horrible truth was that all of the wines older than 1964 were in poor condition! This time the winners were found exclusively in the 60s and 70s. Most impressive were almost all of the gigantic 76s, closely followed by the textbook vintages 1964, 1966, 1969 and the elusively seductive 1971. The 1980s felt exactly as weak as the high yields let on, and the shake-up during 1990 and 1996 was difficult to miss.
Here below you can briefly read what I think about all of the Dom Pérignon wines that have been produced since the beginning of the 20th century. Of the two marks given, the one on the left indicates the current situation, the one on the right the wine's potential all-time high. Which, then, is the greatest Dom Pérignon ever produced? Some claim the '61, others the '47. I have no definite answer, but the paradoxical question is whether, perhaps, the 1921 Moët & Chandon isn't the most monumental structure that has ever been produced by the beautiful giant on Avenue de Champagne in Epernay?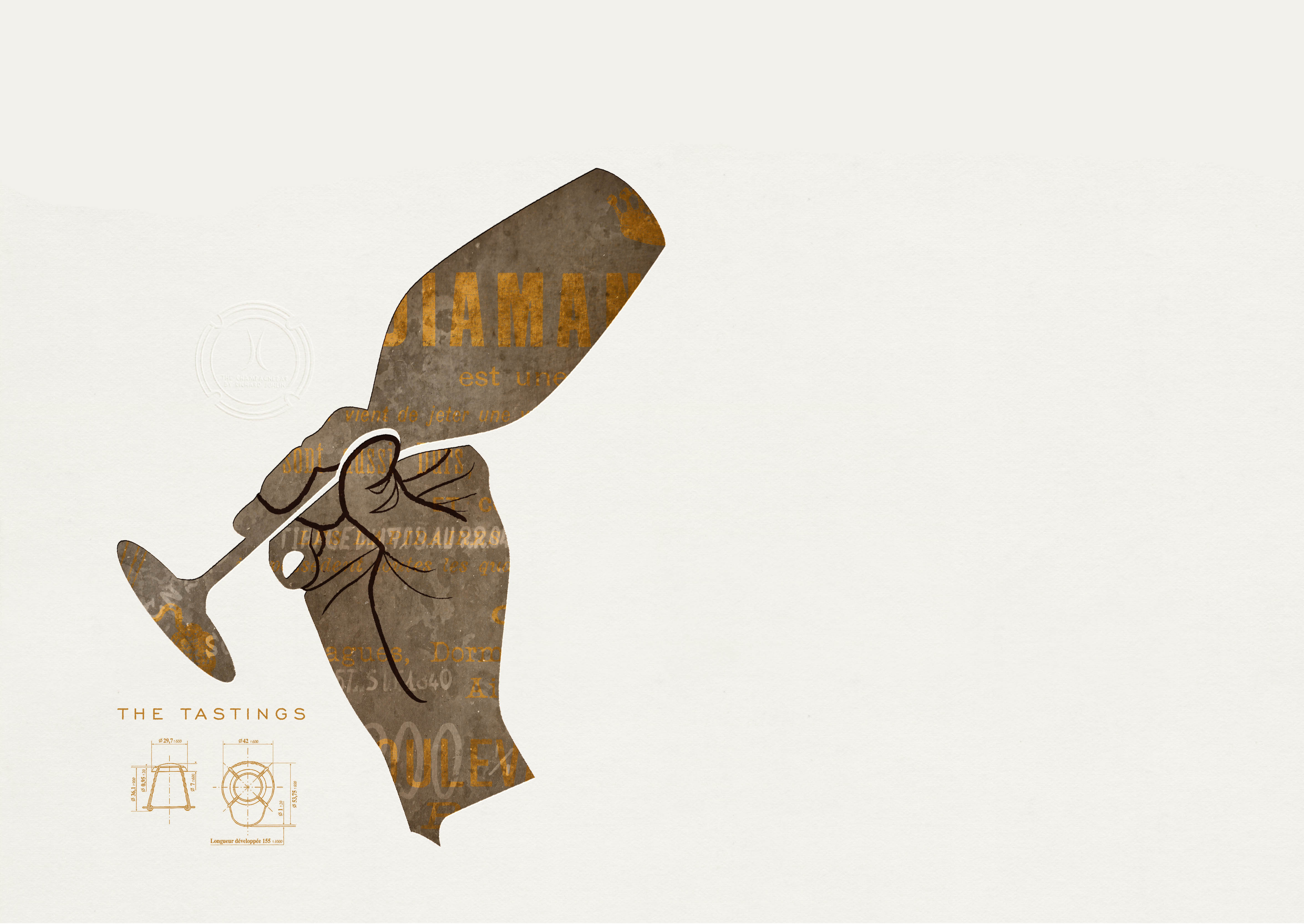 The Champagnes
1998 Dom Pérignon 90 94
Well-balanced, much too young and slight in structure, but with a very promising, lengthy, chalky aftertaste.
1996 Dom Pérignon 93 96
Has all the potential of becoming one of the greatest vintages of all times. Store!
1995 Dom Pérignon 93 94
More approachable and aromatically open than the '96, but one size smaller.
1993 Dom Pérignon 87 89
Feels a little bit like someone attempting to make a Dom Pérignon, but not totally succeeding. Youthful and unadulterated, with a certain hardness and bitterness in the finish.
1992 Dom Pérignon 90 90
Dulcet Chardonnay-buttery and agreeable for the moment. It won't last much longer, as the wine is much too unconcentrated. Better to put your money on Vintage Moët in a magnum.
1990 Dom Pérignon 94 96
All the building blocks are in place, but it will be a while before the delicious mature notes of almond and Kenyan coffee are drenched in creaminess and chocolaty richness.
1988 Dom Pérignon 92 94
Generally a wonderful vintage in Champagne, but in Dom Pérignon's incarnation slightly peaked and mean. Maybe time is the key to success?
1985 Dom Pérignon 95 95
A wine that has gone through many phases through the years. After a long slump the wine is now in a beauteous, unorthodox, personally elusive phase. Not in any way monumental, but incredibly fascinating and wishfully arousing.
1983 Dom Pérignon 94 94
Best in the Oenothèque version, where a few years ago it literally exploded in toasted, nutty splendour.
1982 Dom Pérignon 93 93
Lighter than most high-class '82s. Nice plumpness and toffee-wrapper nose to drown oneself in, but a little too vague to be counted among the better vintages.
1980 Dom Pérignon 91 91
This wine has many fans owing to its floral drapery and mineral-rich purity. Too thin and short in my opinion.
1978 Dom Pérignon 93 93
This wine is exhibiting all its best sides these days. Still present are youthful notes of gooseberry and grass. At the same time, duck liver and brioche are discernable. Sandwiched between all of this, a thick layer of apricot marmalade dominates.
1976 Dom Pérignon 97 97
At the present time, perhaps the most impressive "Dom" of all? For many years a rather heavy, overburdened and over-explicit creation, which has suddenly found a new track and today combines its powerful richness with refined, subtle layers of beautiful exoticism.
1975 Dom Pérignon 93 93
There really is nothing to complain about here, but I still think that in comparison to most of the other vintages of this prestige champagne, this one is rather drab and lacking in charm. Everyone likes it but none are moved!
1973 Dom Pérignon 96 96
Lighter and somewhat more unsteadily built than the '75, but far more fascinating with its caressing oiliness, essence of walnut and popcorn-like keynote.
1971 Dom Pérignon 96 96
I'm a bit in love with this '71 for the moment. Something elusive about this wine always makes me want to come back to it and try once more to find what lies behind its vanilla ice-cream lucidity. Extremely close on 97 points.
1970 Dom Pérignon 87 87
One of the poorer vintages in this wine's long history. Not at all unpleasant, but still slightly sullen in the autumn forest.
1969 Dom Pérignon 96 96
One of the foremost vintages at the moment. Incomparable balance, super acidity and tons of coffee aroma.
1966 Dom Pérignon 96 96
Somewhat less explosive and tart than the '69, but with a slightly broader taste spectrum. A classic.
1964 Dom Pérignon 97 97
Until just recently my favourite vintage, with a constant point average around 98; on one occasion even 99. Unfortunately, the latest bottles have indicated a declining curve where the richness and fullness of flavour is the same, but clarity is on the retreat.
1962 Dom Pérignon 95 95
My birth year has created a round and frivolous Dom Pérignon with a scent of cotton candy and popcorn. An unappreciated hotshot that is still in good form.
1961 Dom Pérignon 97 97
The only champagne that Michael Broadbent gave 6 stars! Unfortunately, it seems that the regular bottles are no longer really world-class. If you want to go on an extraterrestrial journey, then you'll have to hunt for a well-aged magnum. An iron fist in a silk glove!
1959 Dom Pérignon 93 93
Lighter than most of the '59s. Large bottle variation, so stick with the Oenothèque in this case.
1955 Dom Pérignon 93 93
I have never found a bottle with an abundance of bubbles. If they still exist, this should be a great wine. Perfect balance, but slightly aged today.
1953 Dom Pérignon
Unfortunately, I have only come across a poorly stored Danish bottle where the wine was completely destroyed. Can there possibly still be a bottle alive out there?
1952 Dom Pérignon 92 92
Hardly classic, but usually quite youthful and light.
1949 Dom Pérignon 97 97
Nothing about this wine hints that it is approaching its 60th birthday. Crispy elegance, slight toasting and oyster shell notes are beautifully balanced by soft tones leaning towards apricot marmalade and honey.
1947 Dom Pérignon 95 95
One of the two greatest vintages of this magical wine according to winemaker Richard Geoffroy. Structurally speaking I agree. It is probably the most powerful and most burgundian of all the "Doms", but I have not yet been able to access the really clean specimens that probably only still exist in the cellars of Moët.
1943 Dom Pérignon 94 94
Seems to be a little fresher when using its other label, "Coronation Cuvée". Actually, it is the first vintage in its own bottle.
1937 Dom Pérignon 95 95
Very good, and much better than the usual Moët Vintage. The interesting thing is that, according to Moët's archive, this vintage has never been made. However, I find it difficult to believe that this perfect, vigorous wine with its original cork isn't authentic.
1934 Dom Pérignon
Yet another vintage that I've only tasted from a weak Danish cellar. Totally dead and smelling of the crypt!
1929 Dom Pérignon 94 94
Far from effervescent any longer, but still possessing a streak of carbonic acid and with a golden hint in its medium-deep colour. Sophisticated scent with a laid-back, luxurious image. Creamy softness both in the nose and palate. Perhaps a little slim and mild, but very long and pared down.
1928 Dom Pérignon 91 91
There is no need to purchase bottles as old as this, as the wine is always better in the regular vintage bottle.
1926 Dom Pérignon
An extremely rare bottle that unfortunately was completely maderised and totally destroyed. Most likely impossible to ever taste again.
1921 Dom Pérignon 94 94
An outrageously expensive rarity due to the fact that it is Dom Pérignon's premier vintage. Doesn't come close to the 1921 Moét & Chandon Vintage.
1996 Dom Pérignon Rosé 92 96
Dom Pérignon Rosé is always much rarer and more expensive than the white version. The level of quality is usually the same. Such is the case with this vintage.
1995 Dom Pérignon Rosé 94 96
A voluptuous, luxurious creation that makes you happy.
1993 Dom Pérignon Rosé 92 94
Richer and better than the white version. However, this too has a somewhat bitter finish of undeveloped extract.
1992 Dom Pérignon Rosé 87 90
Very soft and benignly accomplished, but was it really a correct decision to sell such a treasure in such a weak year as this?
1990 Dom Pérignon Rosé 94 96
Highly reminiscent in many ways of the classically built, eternally fixed white sibling with an extra layer of concentrated strawberry essence.
1988 Dom Pérignon Rosé 96 97
An acid fetishist's wet dream! In no way a glamour boy, but in return an advanced and complicatedly constructed ascetic. A complete washout as a nightclub rosé!
1986 Dom Pérignon Rosé 93 94
This has to be denoted a masterpiece considering the weakness of this vintage. A difficult-to-spit-out sensual experience.
1985 Dom Pérignon Rosé 97 97
Magnum bottles of this wine belong to the foremost rosés ever produced. Aÿ-Pinot at its best, with heavy aromas of truffle, mushroom, leather and tobacco drenched in the red raspberry saturated height-of-summer creaminess.
1982 Dom Pérignon Rosé 93 93
Feels decidedly more full-bodied but also older than the white '82. Excellent and extremely delicious along with a cheese platter suited to champagne.
1980 Dom Pérignon Rosé 90 92
Highly reminiscent of the '82 in a somewhat lighter version.
1978 Dom Pérignon Rosé 93 93
I wasn't especially impressed the first time I tasted this wine, but at 28 years of age I found a perfect, very youthfully enjoyable, sophisticated bottle – so supple and danceable on the palate. Somewhat lighter and shorter than usual.
1975 Dom Pérignon Rosé 93 93
Dark in colour and almost impenetrably treacly and sweet. Rapturous richness, but lacks the usual elegance.
1973 Dom Pérignon Rosé 95 95
Superbly elegant, light-footed champagne with a charismatic grace and inviting charm. One of the lighter, but also one of the more classic vintages of this super wine. The delicious fruitiness breathes newly picked raspberries and the bready notes are magnificently balanced.
1971 Dom Pérignon Rosé 95 95
An unbelievably pleasurable light suppleness can be traced throughout this wine. Somewhat retiring and smaller in dimension than the '60s.
1969 Dom Pérignon Rosé 96 96
The most explosive and dynamic in the famous line of excellent '60s vintages. Astonishing length and minerality.
1966 Dom Pérignon Rosé 96 96
Perfect balance and most elegant of the '60s vintages.
1964 Dom Pérignon Rosé 97 97
Mint-scented, chocolate and uniformly treacly. A wonderful wine.
1962 Dom Pérignon Rosé 96 96
Together with the '59 this is the most La Tâche-scented, red-wine-like DPR-vintage. Chewy and full of sweet aromas.
1959 Dom Pérignon Rosé 96 96
The first vintage was kept secret from the rest of the world for many years, but when I found a bottle and asked if this deliciously monumental wine really could be a fake, the truth came out. "Yes, we made a few bottles as a test!"
1990 Oenothèque 92 96
Considerably younger than the usual bottles, with tons of shellfish aroma, iodine and mineral.
1988 Oenothèque 91 93
Yet another shy cellar wine to follow into the future. Better depth in a magnum.
1985 Oenothèque 94 95
Very little difference from the usual decantation. Deliciously floral and sensual.
1983 Oenothèque 96 96
Buy all that you can find. Exceptionally undervalued and not particularly expensive.
1980 Oenothèque 91 91
The same impression as in the regular bottle.
1978 Oenothèque 91 93
Has not improved from being stored untouched in Moët's cellar. Somewhat meaner and without the apricot essence you clearly find in the usual bottles.
1976 Oenothèque 97 97
Fantastic and identical to the well-aged regular bottles.
1975 Oenothèque 93 94
Lighter and younger, but I wonder if this will ever become amazing.
1973 Oenothèque 96 96
Slightly lighter than normal bottles, but with a lengthier, palpable nuttiness and more beautiful Chardonnay character.
1966 Oenothèque 93 96
Extremely young and storeable. For the time being I still prefer the usual green label.
1964 Oenothèque 95 97
Still a bit to go before it reaches greatness. Somewhere along the way it will happen.
1962 Oenothèque 96 96
Wonderful combination of richness and youth. Illuminates the entire purpose of the Oenothèque -concept in excellent fashion.
1959 Oenothèque 93 94
Very good, but I believe that most will be disappointed in the lightness and lack of greatness evinced in this incarnation.